MyFitness Dance Awards 2022 at the Estonian National Opera
29.04.2022 14:12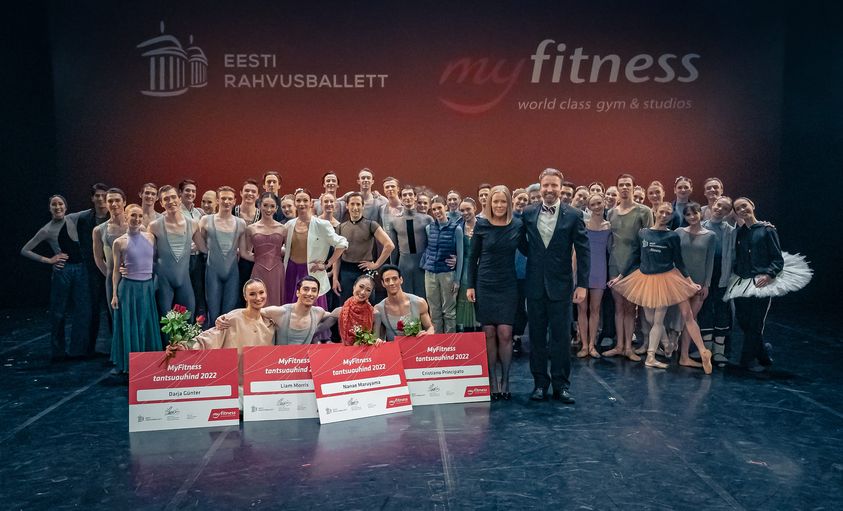 On April 29th, 2022, the MyFitness dance awards were presented to four Estonian National Ballet dancers at the gala of the International Dance Day in Estonia Theater. The best ballet artists of 2022 are Darja Günter and Liam Morris, and the best soloists are Nanae Maruyama and Cristiano Principato.
The awards, which also include a cash prize, were presented to the dancers by Eva Ottas, a representative of the MyFitness Group, and Linnar Looris, the artistic director of the Estonian National Ballet. The Estonian National Opera has been cooperating with MyFitness and supporting the good physical fitness of Estonians since 2019. According to Erkki Torn, CEO of MyFitness Group, MyFitness is sincerely grateful and happy for its long-term cooperation. "The last two years have been a very difficult and similar search period for both sides. Estonians have always been a great support to us and have given us inspiration, motivation and strength to continue to act through their artistic activities. I hope that the MyFitness dance awards will show our great gratitude to the entire Estonia team! "
Darja Günter graduated from Tallinn Ballet School and has been dancing in Estonia theatre since 1999. In 2019, he won the Colleague Award in the ballet category. Liam Morris studied dancing at the Australian Ballet Academy and the English National Ballet School. He joined the Estonian National Ballet in 2018.
Nanae Maruyama has studied dancing at Tokyo Ballet School and John Cranko Ballet School in Stuttgart. Even before joining the Estonian National Ballet in 2006, she was recognized at international competitions. Nanae has solo roles in several productions of the Estonian National Ballet, including the ballet "Louis XIV - Sun King", which premiered this season.
Cristiano Principato graduated from La Scala Ballet School and won the Italian Dance Star of the Future in 2017. He joined the Estonian National Ballet in 2020. Cristiano is one of the busiest members of the national ballet, dancing solo roles in the productions "Anna Karenina", "The Nutcracker", "Swan Lake", "Louis XIV - Sun King".
MyFitness annually awards the Dancer of the Year prizes to the best dancers of the Estonian National Ballet at the gala of the International Dance Day. This year, the awards were presented for the fourth time.