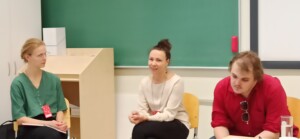 The Baltic Theatre Forum is a festival and meet-up for theatre professionals that takes place in a different Baltic state each year. The main goals are to introduce new plays based on original dramaturgy, promote contacts between theatre people and create possibilities for reciprocally staging each other's plays.
The Baltic Theatre Forum is organised by the Estonian Theatre Agency in cooperation with the Estonian Theatre Festival DRAAMA.
In 2021, Baltic Theatre Forum took place in Tartu, Estonia. The visitors were able to watch all the plays in the programme with English translation. At the conference  "Baltic Reflections," which took place on September 10th, Estonian, Latvian and Lithuanian theatre researchers discussed whether close neighbours are depicted in theatre, and if so, then how, which Baltic texts have been staged, and what has the cooperation between the three countries' theatre professionals been like up until now.
In 2022, the Baltic Theatre Forum was organised in Lithuania, and the next forum in 2023 is set to take place in Latvia.