Estonian theatre statistics 2022: the number of theatre visits exceeds one million again
14.09.2023 15:11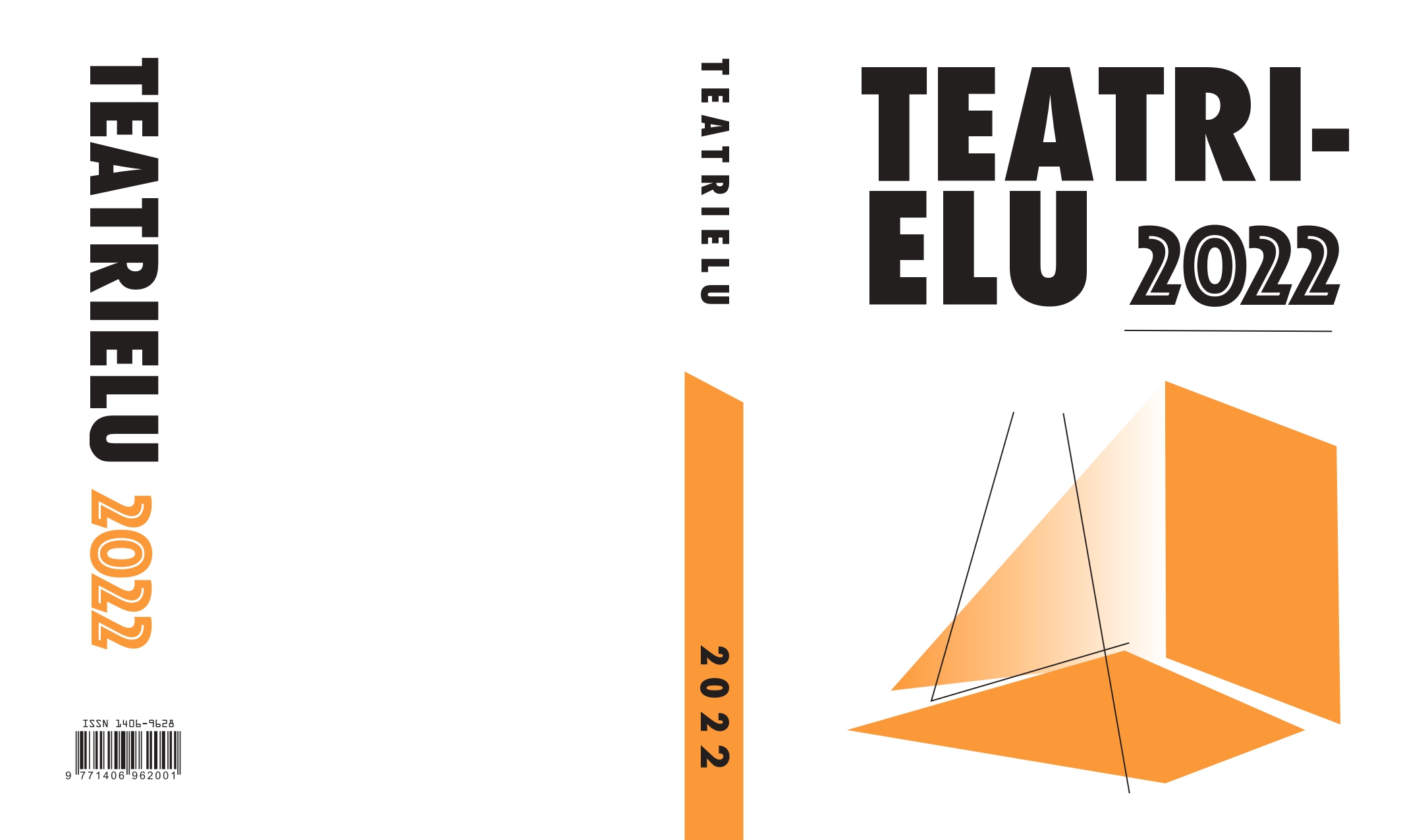 On Thursday, September 7th 2023, the yearbook Teatrielu 2022 was presented at the Draama Festival, along with a brief overview of last year's theatre statistics.
Comparing the theatre year 2022 with the previous year, 2021, one could say that there was more of everything even without knowing the figures, because theatres were able to work on all days, as in normal years. Compared to the previous year, 2022 was a year when more people came to the theatre and more productions and performances were in the repertoire. In short, more than 1.1 million people (1 120 012) visited Estonian theatres in 2022, as theatres gave a total of 6 744 performances and had a total of 656 productions in their repertoires, 239 of which were new productions.
In 2022, Estonian theatres gave an average of 18 performances per day, with an average of 166 spectators per performance and a total average daily audience of 3 063 (3 489 in 2019).
In normal times, the reference year for theatre would be the previous year, but for 2022, we are probably most interested in whether theatre activity has recovered, whether the numbers have reached pre-COVID-19 levels. The last normal year for theatre was 2019, when there were an average of 19 performances per day and around 184 spectators per performance.
While it is true that the government regulations of the previous two years no longer directly limited the work of theatres, and no deductions from the number of performance days in 2022 have to be done due to restrictions, the first months of the year were still affected by the previous year, resulting in close co-operation with the government and more caution than usual, and with theatres postponing premieres or cancelling a number of performances as a precautionary measure or for health reasons. These effects are reflected in the number of performances and the number of theatre visits. Compared to 2019, there were fewer performances (–301) and fewer spectators (–152 655).
The number of theatremakers continues to grow every year. While 65 different theatres and projects were included in the theatre statistics in 2019 and 2020, the number rose to 83 in 2021 and to 92 in 2022. The number of productions in the repertoire has increased along with the number of theatremakers, from 610 in 2019 to 656 in 2022, as well as the number of new productions premiering, from 222 to 239.
The number of new productions by municipal and state-owned theatres was 92 (same as in 2019, but 65 in the pandemic years). However, the ratio of state-owned to private theatres is gradually shifting in favour of private theatres every year: of the 656 productions in the total repertoire, 302 were by state-owned theatres, which makes 46.2% of all productions, and indicates a slight decrease in comparison to previous years – the percentage was 51.5% in 2019. All in all, private theatres accounted for 53.8% of productions, 52.7% of performances and 35.8% of visits.
The most visited theatres continue to be the Estonian National Opera (118 494 spectators), Vanemuine (106 472) and the Estonian Drama Theatre (101 907). The Estonian Drama Theatre has returned to its traditional position as the third most visited theatre, after the music and dance theatres, but it remains to be the most visited verbal theatre. The number of visits to eleven state and municipal theatres increased to 738 049 (almost double the previous year – an increase of 350 725).
Among the private theatres, the Old Baskin Theatre (25 475) attracted the largest number of visitors, followed by the Piip and Tuut Theatre (22 013), Thors Theatre with "ADA. The Untold Story" (22 000). Fine 5 Dance Theatre (20 644), VAT Theatre (16 985) and Von Krahl Theatre (16 024). Eight other theatres attracted more than 10 000 spectators: Teater Sõber (14 436), Tartu Uus Teater (13 500), Tuuleveski (12 674), Vaba Lava (12 585), Ekspeditsioon (12 236), Haltuurakunst aka Märt Avandi's "40" (11 218), Theatrum (10 934) and the Estonian Dance Agency (10 226).
The year 2022 stands out with 105 productions (including 51 new productions) in the summer season, whereas the major projects "Kalaranna 28" (29 performances, 22 632 spectators) by Tallinn City Theatre and "ADA. The Untold Story" (15 performances with 22 000 spectators) are also the most-watched productions of 2022. Of the productions in the theatres' main repertoire, "Lehman Brothers" by the Estonian Drama Theatre (49 performances, 21,790 spectators), which has been seen by more than 44,178 spectators over three years, rivals the summer productions in terms of audience.
In terms of the share of new productions in the repertoire, the most active change in the repertoires can be observed among the multi-genre and dance productions, where new productions account for 47.3% and 50.8% of the total repertoire respectively. Puppet productions have the longest repertoire life (8.8% are new productions), while among musicals (30.4%) and verbal performances (34%), a third of the repertoire consisted of new productions.
The average ticket was the most expensive for musicals, at €18.6 (excluding VAT), the price was equal for verbal and dance productions, at €15.8, and slightly cheaper for multi-genre productions, at €12.1, with circus and puppet productions being the cheapest at €4.4 and €6.5 respectively. As the number of performances and audiences increased compared to the pandemic years, so too did theatres' ticket revenues – up by nearly seven million. Over the two years, the average ticket price has risen by just €0.4 (to €15.4).
26 theatres received state operating subsidies, albeit in varying amounts, and three others received grants for projects and costs. 22 private and state theatres received varying levels of municipal support, most of them for projects or to cover administrative and other costs. Tallinn City Theatre, Kuressaare Theatre, Ilmarine, Tuuleveski and Paide Theatre received grants from the local authorities to cover staff costs. The largest contributor was, of course, the City of Tallinn, but also Tartu, Kuressaare, Pärnu and Paide. The municipalities of Narva, Viljandi and Rakvere provided smaller project grants.
For the fifth time, amateur theatres are included in the Teatrielu chronicle with statistics. The pandemic years and the rising cost of living have perhaps left the clearest mark on their figures – everything remains at the same level as in the pandemic years and has not yet indicated a rise. Of the 107 productions by 38 amateur theatres, 58 were new productions, 467 performances were given and there were 27 907 spectators. In 2019, 48 theatres participated with 162 productions and 40 413 spectators.
There were 26 festivals in 2022 for different audiences, most of which were international, with the exception of radio, amateur and student theatre festivals. Estonian theatres have given an average of 10% of their performances abroad over the years, but in 2022, the share of performances abroad (120) remained at 1.8%, and the share of attendance of these performances was 1.1% of the annual attendance. In 2022, 33 productions were performed outside Estonia in 22 countries.
eˉlektron and Kellerteater regularly broadcasted performances, or gave performances specifically designed for streaming, and the VAT Theatre had an international web production. Others examples of online theatre were either charity broadcasts (stand-up theatre POINT) or festival broadcasts (R.A.A.A.M., Vaba Lava). Several lectures, seminars and talks with artists organised by the theatres continued to be broadcasted online.
Together with festivals, concerts, balls, film nights, lecture series, workshops and performances, theatres contributed to Estonia's cultural life in 2022 with 9 700 cultural events for 1.32 million visitors.
Estonian theatre statistics for 2022 are published in Teatrielu 2022, the second part of which is a chronicle. In addition to the statistics, it also includes an overview of the events of the year, overviews of theatre organisations, festivals, etc.
A brief comparison of recent years:
2022: 656 productions in repertoire (including 239 new productions), 6744 performances, 1 120 012 visits.
2021: 571 productions in repertoire (including 211 new productions), 4790 performances, 651 097 visits.
2020: 539 productions in repertoire (166 new productions), 4785 performances, 727 316 visits.
2019: 610 productions in repertoire (222 new productions), 7047 performances, 1 273 303 visits.
More detailed data is published in the Estonian Theatre Agency's statistics database: teater.ee/stat/main